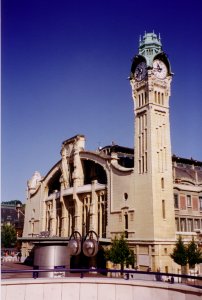 Rouen railway station
In 1912, the old railway station "le Débarcadère" built in 1847 turned out to be a little to small and unconvenient to deal with the growing numbers of passengers of the Paris-Rouen line. Therefore the architect Adolphe Dervaux was then chosen to build a brand new one.
This railway staion was built in the "Art nouveau" style between 1912 and 1924 and finally inaugurated in 1928 by the french president Paul Doumergue.