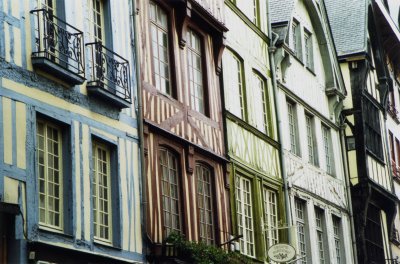 Half-timbered houses in the Gros-Horloge street
After WWII, many half timbered houses that were not, by chance, destroyed during the bombings were transfered in the Gros-Horloge street.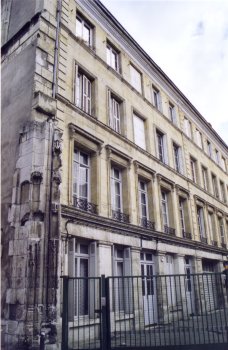 Remains of the Saint-Nicolas church
Between the Saint-Nicolas street and the Croix de Fer street, one may notice this building.In one of its angle you may discover the only remains of the Saint-Nicolas church. That church built during the XVIth century. This church, which was famous for its stained glasses was damaged during the French Revolution and finally destroyed in 1840.
Its stained glasses were sold and can now be admired in the York cathedral and its steeple was moved to Cottévrard, a small village in Normandy.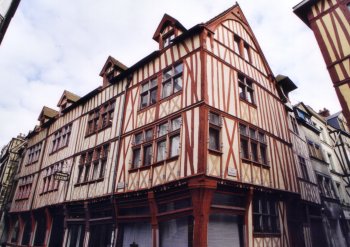 In the Bons Enfants street, one may admire this huge half-timbered house.
This street was named according to the Bons-Enfants religious corporation that built a college there in the XIVth century.