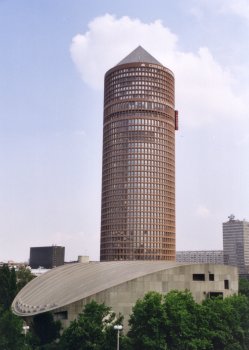 The Part-Dieu tower and the auditorium
The "Crédit Lyonnais" tower in the Part-Dieu district, achieved in 1977, became one of the most famous buildings of Lyon, so that it even has a nickname "Le crayon", the pencil.
The building was designed by the american architect Cossuta, that prefered the cylinder rather than classical rectangular shape. The pyramid at the top the building was built by Stéphane du Chateau.
Close to the tower, you can notice the Maurice Ravel auditorium, a huge concrete shell, imagined by Pottier and Delfante in 1975 that hosts the Lyon orchestra.